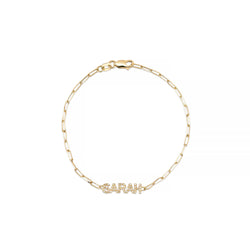 RIAVA PETITE DIAMOND NAME BRACELET
The RIAVA Petite Diamond Name Bracelet is a dainty take on our best-selling Classic RIAVA Diamond Name Necklace. 
A five character name (ex: SARAH) measures approximately 15mm in width and features a total carat weight of .10ct-.12ct depending on the letters. The letters on the Petite RIAVA measure approximately 4mm in height. Bracelet features a paperclip chain that measures 6.5" in length. Style can fit up to 8 letters. 
This style is custom made to order. Please allow 4-5 weeks for it to ship.