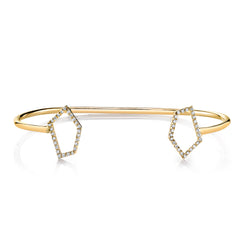 SHARDS v.02 DIAMOND BANGLE
Inspired by the natural geometric form of glass shards, this collection creates a minimalist, statement look. 
Bangle features our SHARDS v.02 geometric shapes set with diamonds. Bangle measures 6" point to point with an adjustable 1" gap in the center.

This style is custom made to order. Please allow 3-4 weeks for this style to ship.